The cruise interiors industry is changing. With sustainability becoming a key priority for all stakeholders, passengers and cruise lines, industry manufacturers and suppliers are working to bring the industry new materials that will not only change interiors but also reduce their environmental impact. With suppliers constantly working to bring the newest and best materials to the industry, designers will be able to bring onboard spaces into the future. Read on to see the latest innovative materials designed for use within cruise interiors by CSI+ members.
Upcycled fabric
Upcycling is a growing trend, both on land and in cruise interior design. Agua Fabrics recently launched a new partnership with Crown Workspace to give second life to office furniture. This venture allows clients to recondition and reupholster office furniture featuring Agua Fabrics through Crown Workspace.
Agua Fabrics has shown commitment to sustainability, recently becoming Planet Mark certified. This new partnership will now allow Agua Fabrics' clients to reduce their waste by reupholstering furniture. The collaboration is with Crown Workspace's award-winning Renew Centre in north London, which specializes in bringing tired-looking used office furniture back to life. While this is currently available for office furniture, we can see fabric reupholstering becoming a key cruise design trend going forward!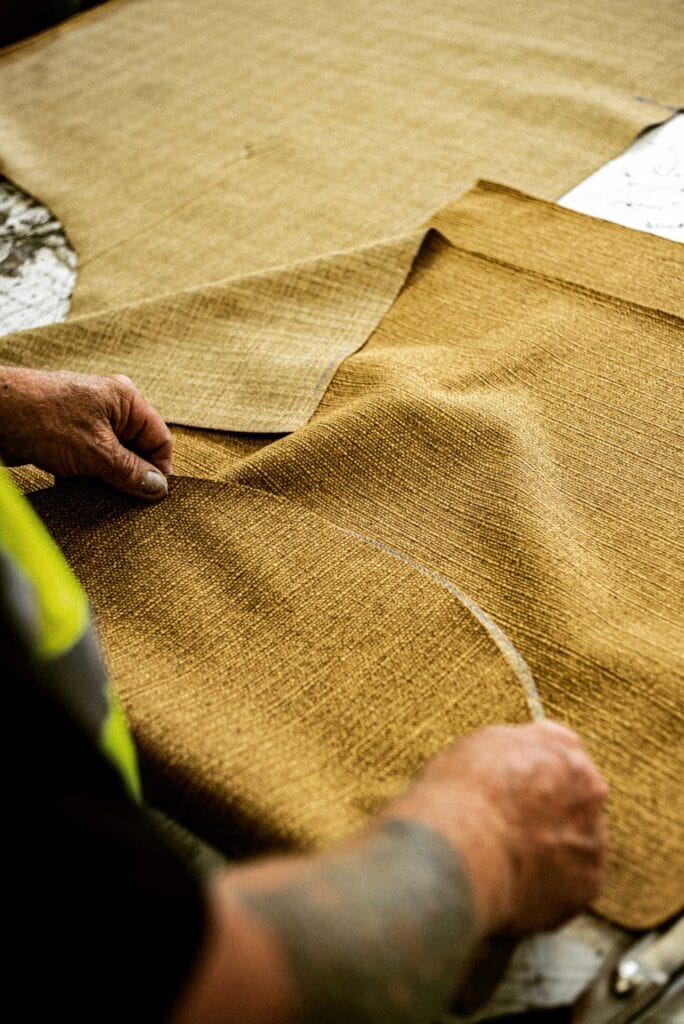 Sustainable lighting
For those seeking a more sustainable lighting solution, BEGA has introduced a modern and energy-efficient LED technology which can be converted from existing lighting systems. This bespoke retrofit can provide considerable energy savings from the material's energy efficiency and longevity. This results in solutions that are sustainable not only in their design, but also in their manufacture and durability.
Replacing conventional light sources with energy-saving LED modules builds a temporal bridge into the next decades. State-of-the-art light sources – supplied with a perfect fit and easy to retrofit – enable an attractively priced, sustainable, and high-quality modernization.
Smart heating solutions
At sea standard stainless steel heaters can rust and deteriorate. The Platinum Electric Marine heater series is an exceptionally durable alternative engineered by Bromic to withstand corrosive marine environments using AISI316-grade stainless steel. Its design consists of a fully enclosed heater body to protect internal elements within an easily maintained ceramic-glass surface. This revolutionary heating solution can be applied to a variety of cruise ship interiors across multiple mounting options including wall, ceiling, and recessed.
Silver Nova recently embarked on her maiden voyage equipped with 70 Platinum Smart-Heat™ Electric Marine heaters. This project delivered personalized heating solutions including both recessed and ceiling-suspended mounting options that would provide an ideal level of comfort for guests and year-round usability of outdoor spaces. Their simple and sleek design seamlessly blends into the vessel's architecture across multiple public spaces.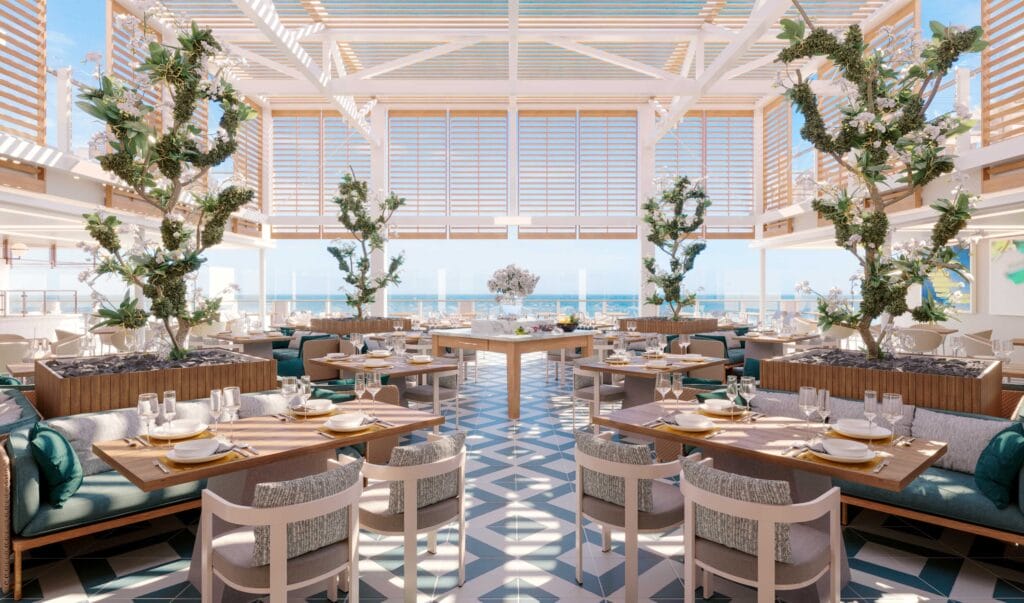 Revolutionary backing
Kerry Johns Marine offers a ground-breaking solution for refreshing marine vessel interiors that is both environmentally friendly and cost-effective. Introducing MarineSpec Interior Film, where sustainability meets style and functionality. MarineSpec Interior Film, which is fully CE and IMO Certified, quickly transforms walls, doors, ceilings, furniture, skirting, and architrave. Available in 475 shades and finishes, it can enhance any cruise space. This innovative interior film boasts a high-tack, self-adhesive backing that allows for quick and hassle-free application on any surface. Not only does MarineSpec Interior Film stick to commonly used materials like wood, metal, plasterboard, and melamine, but it also handles curves, and 90-degree edge returns with ease. As a result, this revolutionary solution reduces waste by eliminating the need for extensive renovations and new material purchases.
This innovation was previously featured in the CSI+ community bulletin.
Hygienic surface protector
Polygene Biomaster antimicrobial protection is Muraspec Wallcovering's new antimicrobial technology designed to protect surfaces, improve hygiene, and reduce the risk of cross-contamination. This durable technology offers protection against harmful bacteria, fungi and molds. It inhibits the growth of microbes up to 99.99% and is even effective against antibiotic-resistant bacteria. Biomaster is versatile and can be easily incorporated into any plastic, textile, paper, paint, or coating. It can be added at any stage of the manufacturing process and comes in masterbatch, liquid and powder formulations. When added, it is dispersed throughout the entire item and becomes an integral part of the product. When no longer needed, Biomaster can be easily recycled, making it a more environmentally friendly option for cruise interiors.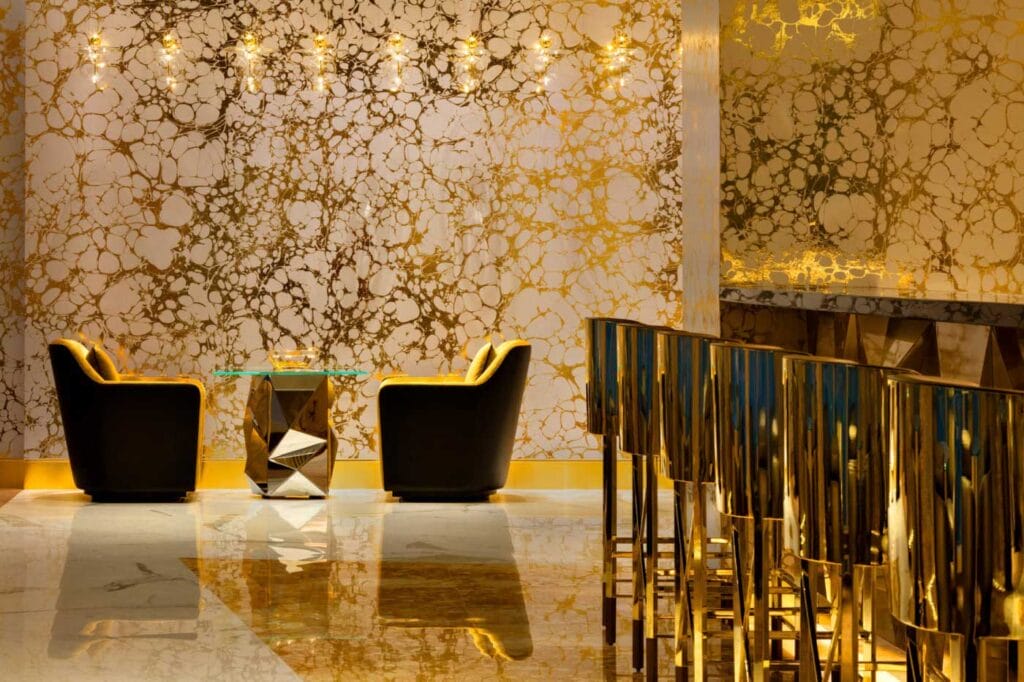 Organic glue alternative
CSI+ Member Pfleiderer has launched an innovative new material, OrganicBoard. Its glue alternative is a revolutionary step towards ecological and sustainable building practices. It offers a wide variety of décor and textures, allowing for endless application possibilities within cruise interiors.
"At Pfleiderer, we understand that wood alone is not enough. With the OrganicBoard we have gone further, utilizing approximately 50 percent OrganicGlue with a biogenic formulation. This is a decisive contribution to greater sustainability, conserves fossil resources and largely decouples production from the supply situation for natural gas and urea.
We take immense pride in this significant contribution to climate protection. The OrganicBoard offers numerous advantages for furniture, interior design, and shopfitting. It is not only highly ecological and low emission, but also remarkably easy to care for. Additionally, it possesses antimicrobial properties and is food-safe, ensuring a hygienic environment."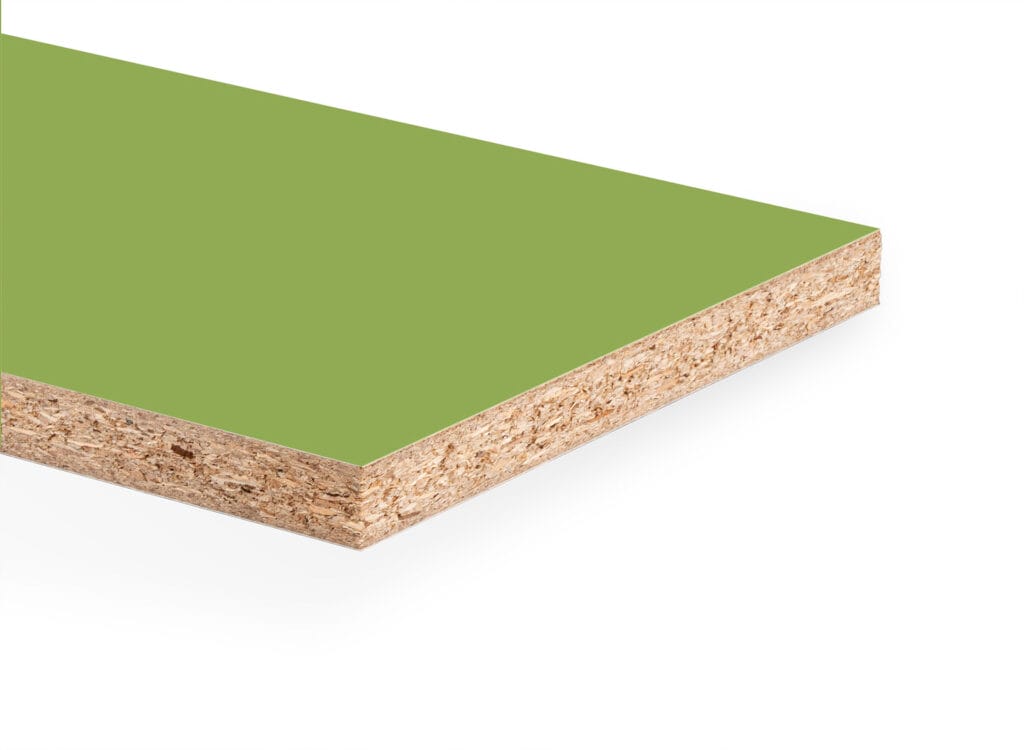 This innovation was previously featured in the CSI+ community bulletin.
Want more of this?
Want to stay up to date on the latest cruise interior industry developments and trends? CSI+ is the exclusive platform for members-only networking and product sourcing for the global cruise interiors community. Not a member yet? Get in touch with the team to learn more.