Welcome to the latest CSI+ Community Round-up.
We're thrilled to kick things off by extending a warm and enthusiastic welcome to our newest CSI+ community members this quarter; Grohe, Preciosa Lighting, Osk Design, AxPro, Oberflex, Hotel Logistics, Wid Chapman Architects, Allstars, Martinez Otero, ILIV, Kaefer Oy, and Textil Bau.
The CSI+ community came together last week for our Future Leaders Q+A & Online Meetup. We'd like to thank our special guests, Willie Traeger, Design Manager & Interior Management at Holland America Group, and Carolina Espinosa, Interior Designer at Tomas Tillberg Design for an insightful conversation as we delved a little deeper into their careers, inspirations and hopes for the Cruise Interiors sectors.
Without further ado, let's take a look at what you, our members have been up to!
CSI+ Community Stories
YSA DESIGN
If you attended this year's Cruise Ship Interiors Design Expo Americas, you would not have missed the brilliant CSI+ Lounge, designed by YSA Design. A tropical-themed utopia on the show-floor, the CSI+ Lounge hosted a breakfast networking event, the Procurement Brunch and was a wonderful chillout area / meetup zone for the entire CSI Community. Complete with a light-up flamingo, pineapples and Summery pool-side furniture, the lounge was big, bold and beautiful!
Thank you to the CSI Suppliers that were involved in this project and worked closely with Fabiana at YSA Design to bring this together: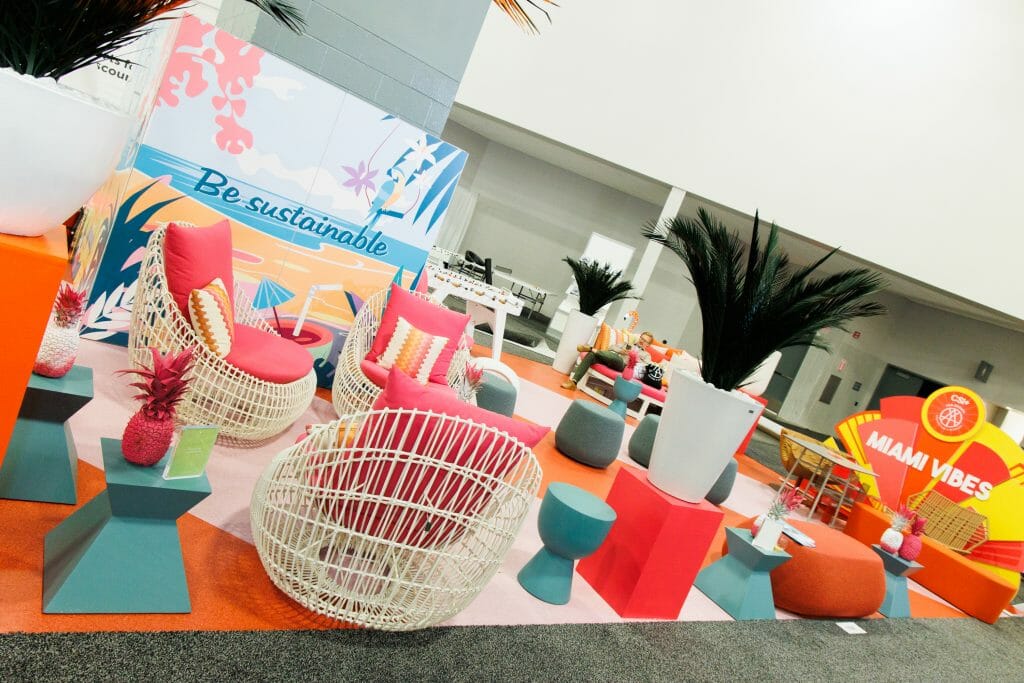 Saint Gobain
Saint-Gobain has joined forces with the Paris 2024 Olympic and Paralympic Games as an Official Supporter, emphasizing their shared dedication to responsible and sustainable construction solutions.
Their involvement showcases their innovative capacity, tailored solutions, and commitment to meeting environmental objectives. The Athletes' Village, designed to be a sustainable model, serves as a laboratory for future construction practices. An exciting aspect of this project is a focus on reusing materials, with interior walls designed for easy dismantling and reuse. Approximately 60,000 m² of demountable partitions, developed with Placo®, will be available for reuse, promoting responsible resource consumption. The unique Athletes' Village buildings feature middle-rise structures with wooden facades, thanks to Weber's innovative thermal insulation system. Additionally, Saint-Gobain's glass factory in Alsace crafted a sculpture atop the Signal Tower using local manufacturing expertise.
This partnership demonstrates Saint-Gobain's commitment to responsible construction and sustainable solutions, as they continue to lead the industry in light and sustainable construction.
Trimline
Trimline Converts Jazz Clubs to Smoke-less Casinos on 3 Royal Caribbean International Ships.
We are excited to share the latest update from CSI+ member, Trimline, who has recently completed an impressive project upon three Royal Caribbean International ships: Converting jazz clubs into smoke-less casinos on Harmony of the Seas, Oasis of the Seas, and Allure of the Seas.
Trimline's team of demolition and removal experts, joiners, electricians, decorators, and labourers successfully carried out the transformations while the ships were in service. Despite the challenges posed by the ongoing operations, the project was completed efficiently, with each ship taking approximately two weeks to undergo the remarkable makeover.
A key factor contributing to the project's success was Trimline's proprietary TAPP software. This innovative tool enabled both Trimline and Royal Caribbean to monitor the progress in real-time, ensuring that the work was completed on schedule and within the allocated budget. The progress monitoring feature of TAPP provided clear and accurate updates on the project's status, impressing Royal Caribbean with its effectiveness.
Trimline's successful completion of the conversions showcases their expertise and commitment to excellence in cruise ship interior outfitting. CSI+ is proud to have Trimline as a member and applauds its achievements in the industry.
TRIMLINE – JAZZ CLUB TO SMOKE-LESS CASINO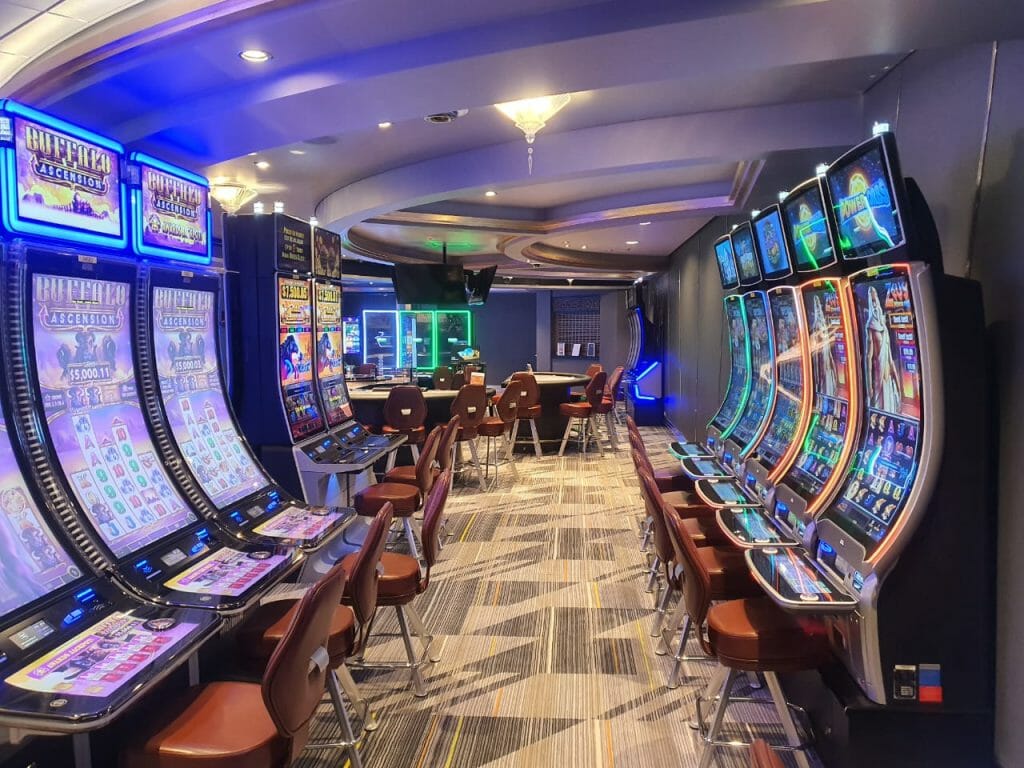 Ulster Carpets
Luxury Ulster Carpets sets sail on Le Commandant Charcot.
Ulster Carpets, distinguished members of CSI+, have left their mark on Le Commandant Charcot, the world's pioneering hybrid-electric polar exploration ship powered by Liquified Natural Gas (LNG).
As a remarkable addition to the renowned Ponant fleet, Le Commandant Charcot holds the distinction of being the first luxury ship capable of venturing deep into the polar regions, offering unparalleled exploration experiences.
At the heart of Le Commandant Charcot lies a commitment to eco-responsibility, aiming to set new standards in sustainable navigation. The selection of materials for the ship prioritized suppliers with sustainable development labels, embodying a dedication to environmentally conscious practices.
Ulster Carpets' bespoke luxury carpets and rugs grace numerous spaces within Le Commandant Charcot, including the 123 suites and staterooms, Nuna and Sila restaurants, Expedition and Conference Rooms, the Kita theatre, and the Cigar Lounge.
Considering the breath-taking polar vistas visible from almost every corner of the ship, architects Jean-Philippe Nuel and Jean-Michel Wilmotte sought to seamlessly merge the indoors with the outdoors, directing guests' gazes outside while creating an inviting atmosphere within. Ulster Carpets' designs were meticulously crafted to strike a delicate balance, evoking a sense of serenity and tranquillity.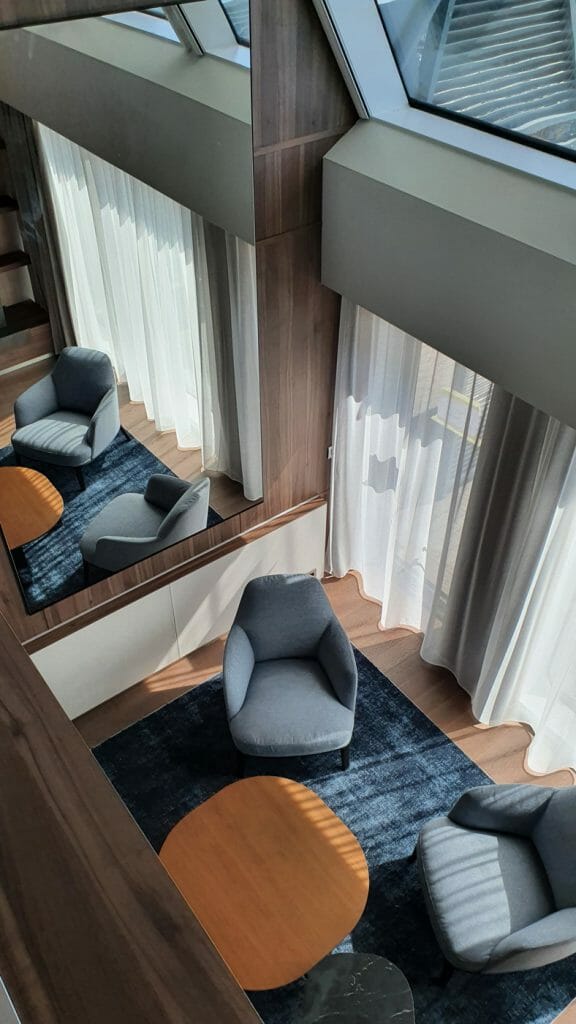 Kerry Johns Marine
Kerry Johns Marine exemplifies sustainable materials.
Kerry Johns Marine has developed a ground-breaking solution for refreshing marine vessel interiors that is both environmentally friendly and cost-effective. Welcome to the world of Kerry Johns Marine: MarineSpec, where sustainability meets style and functionality.
Kerry Johns' MarineSpec offers a transformative alternative for walls, doors, ceilings, furniture, skirting, and architrave. This innovative interior film boasts a high-tack, self-adhesive backing that allows for quick and hassle-free application on any surface. Not only does MarineSpec stick to commonly used materials like wood, metal, plasterboard, and melamine, but it also handles curves and 90-degree edge returns with ease.
One of the standout features of Kerry Johns MarineSpec is its extensive range of options. With an impressive selection of 475 shades and finishes, CSI+ Members can effortlessly find the perfect match for their marine interiors. From the elegance of marble and stone to the sleekness of solid colours and the allure of metallic textures, the film ensures that style and aesthetics are never compromised when choosing sustainable solutions.
By embracing Kerry Johns MarineSpec, CSI+ Members can breathe new life into their marine interiors without causing harm to the planet or their budgets. This revolutionary solution reduces waste by eliminating the need for extensive renovations and new material purchases.
KERRY JOHNS MARINE: MARINESPEC
Spires Art
Spires Art turns heads in Boutique Hotel in the heart of London.
Spires Art are delighted to announce their latest space transformation with art. They recently had the privilege of showcasing their bespoke artwork and mirrorworks at a contemporary boutique hotel located in the heart of London.
Renowned for their artistic prowess, Spires Art has seamlessly integrated their unique creations into the hotel's stylish and modern interiors. The fusion of urban aesthetics with a touch of luxury is beautifully reflected in their artwork, resulting in a visually stunning experience.
With a commitment to excellence, Spires Art has successfully captured the essence of contemporary artistry and interior design. Their artwork effortlessly enhances the overall ambiance of the hotel, leaving a lasting impression on every guest.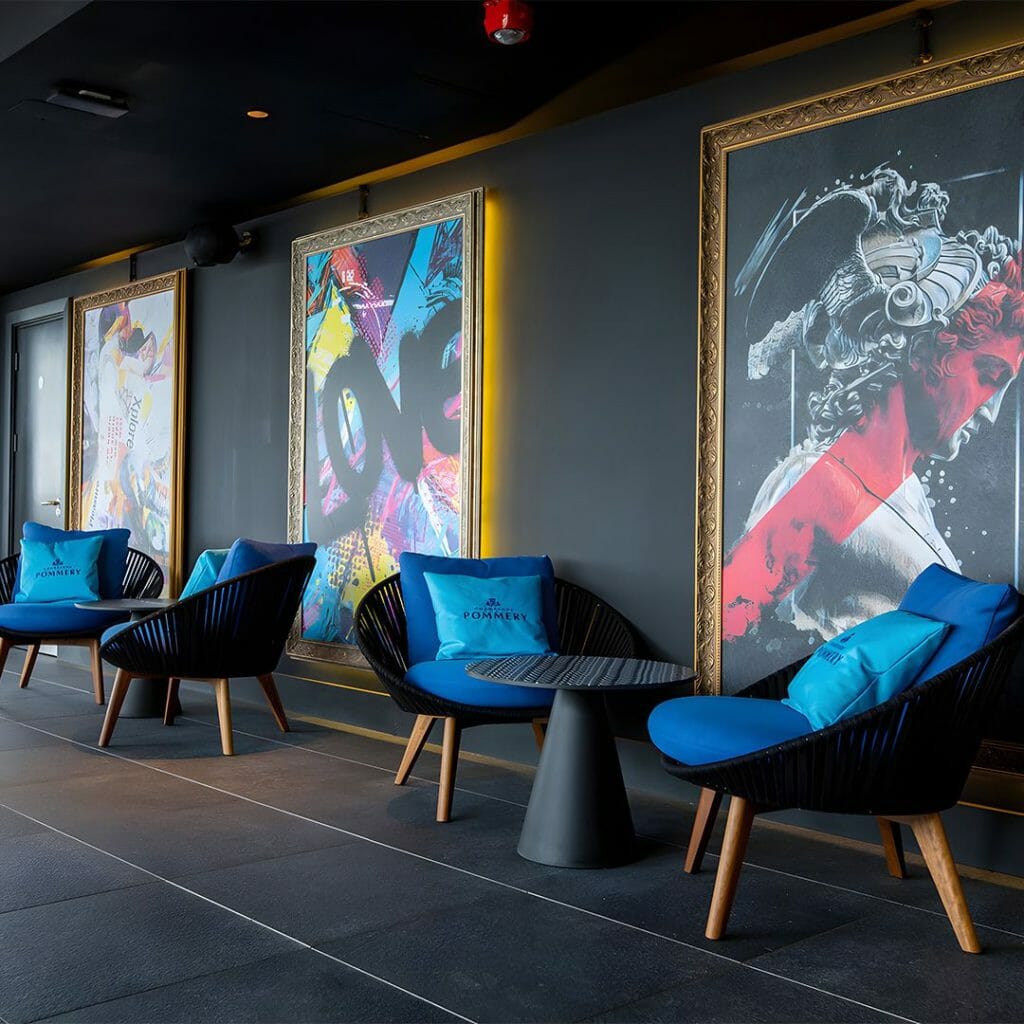 ILIV
Celebrating a decade of innovation.
Join in the celebration as ILIV marks a momentous milestone – their 10th birthday! The team recently came together for a fantastic afternoon of festivities, commemorating a decade of success and growth.
The festivities kicked off with an exhilarating round of competitive darts at Flight Club Darts, where friendly competition added an extra touch of excitement. Following the games, the celebration continued at Albert's Schloss, where the ILIV team indulged in delectable food, delightful drinks, and danced the night away.
Let us raise our glasses and toast to ILIV's remarkable journey and achievements over the past decade. We applaud their dedication, passion, and commitment to excellence.
Peninsula Contract Furnishings
Restoring the Regent Seven Sea Explorer to her future glory!
Congratulations to Peninsula Contract Furnishings, for their exceptional reupholstery project aboard the Regent Seven Sea Explorer in Victoria, Canada. Their expertise and dedication were on full display as they successfully restored and reupholstered a remarkable total of 156 chairs in the Horizons lounge.
Under the guidance of project lead Richard Waterworth, a team of six highly skilled technicians undertook the meticulous task of stripping, restoring, and reviving the chairs to their former glory. The process involved careful attention to detail, ensuring that every chair received the utmost care and precision.
In addition to the upholstery work, the Peninsula team also invested significant effort in restoring and enhancing the wooden framework, enhancing both the aesthetic appeal and the structural integrity of the furniture.
Through their meticulous craftsmanship and unwavering commitment to excellence, Peninsula Contract Furnishings completed the project ahead of schedule, delivering outstanding results that garnered a perfect 10/10 customer satisfaction rating.
Sustainability lies at the core of Peninsula Contract Furnishings' approach, as they skilfully combine the reuse of existing furniture with thoughtfully selected new pieces. Their motto, "Restore the Past to Protect the Future," reflects their dedication to sustainable practices and responsible design choices.
PENINSULA CONTRACT FURNISHINGS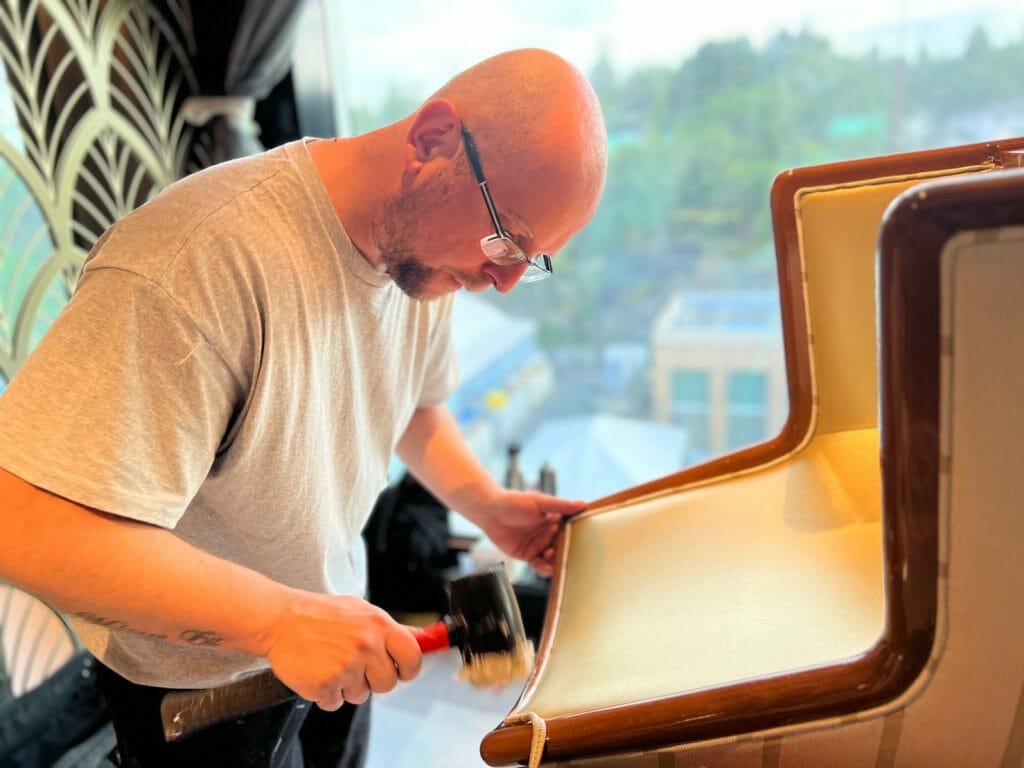 Robos Contract Furniture
Robos Contract Furniture Showcases Expertise in Marine-Grade Fixed Table Bases
Robos Contract Furniture, a dedicated CSI+ Member for two years, has recently released an insightful blog post titled "Let's Tell You The Story About Our Fixed Table Bases." This informative piece dives into the reasons behind securing table bases on board ships.
According to Robos, table bases on ships are commonly secured to prevent shifting. This practice is particularly crucial in large buffet restaurants and crew areas, where a stable arrangement is paramount. However, is the prescribed design always suitable? Surprisingly, it isn't. Robos faces the challenge of transforming unsecured prescribed table bases into fixed bases without compromising the original design. They tackle this challenge by closely collaborating with architects and carefully considering the spatial requirements. For instance, they utilize stainless-steel base plates, which allow thorough carpet cleaning with water while eliminating the risk of rust.
So, how does Robos prepare for the delivery and assembly of table bases?
Robos delivers the base plate, complete with an M16 bolt, to the shipyard, enabling it to be attached to the floor during the construction phase. This preparation can occur as early as six months before the furniture delivery and assembly. This approach offers several advantages, including the elimination of concerns regarding the thickness of the finishing floor, which has been a past issue. Thanks to their groundbreaking anti-rotation system, Robos ensures that the table base remains securely fixed. Even the slightest movement in the base can have a significant impact on the tabletop.
How has Robos' approach evolved over the years?
In the past year, Robos has established an internal project office, acting as a vital link between procurement and logistics. The primary goal of this office is to ensure the smooth and well-managed delivery of projects. By maintaining close communication with the shipyard, outfitters, and shipping company, the project office maintains control over the delivery process. Leveraging their extensive experience, Robos can proactively identify potential hurdles and address them early on.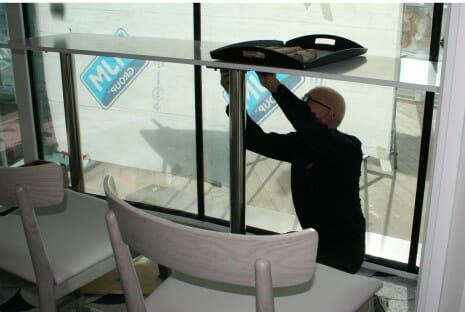 So what have we been up to?
Gia and Nikita have been busy welcoming new members and keeping in touch with our valued regulars. For any inquiries regarding our CSI+ events schedule or sharing ideas for the Membership, feel free to get in touch with Nikita. If you would like to arrange a chat to explore your content ideas please each out to Gia.
Work is underway to build our shiny new CSI+ platform which will include a new member directory, product catalogue, a digital notice board and a photo gallery. This will be launched in our fab new CSI branding.
Passes for the second edition of the Sustainable Design Summit have just gone on sale. Check out the Summit, and book your place here.
Best regards,
Claudia
Thanks for reading this month's CSI+ Member Bulletin. We welcome you to share your story to be featured in the next edition.
Check out our other CSI+ Blogs here.