Welcome to the October CSI+ Community Bulletin! I hope you've all had a lovely beginning to Autumn.
First of all, a warm welcome to new members; Atlantic Marine Interiors, Bolaero Ltd, BEGA, CITA Design, Forest Group, Njords Ark, Songullini Lighting, Sika Ltd, Spires Art and Vestnes. We love to see the CSI+ family grow, please go show them some love!
We also welcomed some new VIP Members this month:
Andrew Menzies, Head of Technical Operations at Marella
Joey Goulas, Newbuild Solutions Project Manager at Royal Caribbean Group,
Carly Smith, Hotel Interior Superintendent at Seabourn
Karl Navarro, – Sr Project Manager, Hotel Ops, Newbuild at Celebrity Cruises.
Don't forget to join the CSI+ LinkedIn group – you'll be able to stay up to date with the latest news, and I welcome you to share your case studies, projects, and new products into this group, too.
It's time to talk about the CSI+ Social in Hamburg…
We couldn't have asked for a better turn out, with an attendance of 100+ international guests joining us at Yakshi's Bar, East Hotel, for a glass of wine, ship-talk, and lots of laughter!
We want to say a huge thank you Peter, Corinna and the JOI-Design Innenarchitekten team for inviting our CSI+ Members to their lovely villa for a Networking Breakfast the next day! We were served a delicious German Breakfast with Pretzels, Weißwürste and Franzbrötchen! Paired with JOI's incredible villa setting, it was a perfect way to end this CSI+ event. For more pictures of the event, please see our brand-new gallery. Also, here you will see pictures from all our socials so far.
CSI+ Community Stories
Muraspec
CSI+'s own Muraspec has just completed a collaboration with the Hilton Hotel. Hilton's lifestyle brand had a clear vision for its Canopy London City hotel. It sought to create a stylish, contemporary, and unique boutique stay for the modern traveller.
Muraspec's entire team worked to help create this eye-catching space; the Digital Team was approached to collaborate with local artists to translate the portraits onto plaster effect wall coverings in the hotel corridors; eight different white masks were developed as part of the digital process across 74 prints; all the lift lobbies were a digital custom-made design featuring vibrant black and grey stripes created in-house to brief and sized to fit all 12 floors of the hotel, including some challenging areas such as recesses, reveals, access, and air vent covers.
Canopy, by Hilton, achieved its gorgeous, brand-new, pet-friendly hotel which welcomes guests to fully immerse themselves in Algate's history steeped in art and craftsmanship.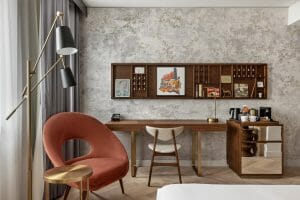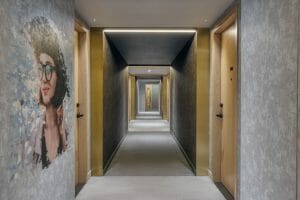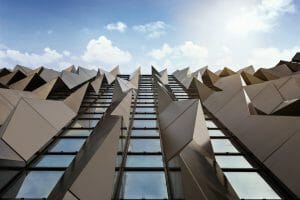 Greenspan
Greenspan, one of CSI+'s own, collaborated with Zip World to create a subterranean, mining-themed golf park in Llechwedd Slate Caverns. The iconic Welsh caverns were inaccessible for 200 years, but with the pair's vision, an entirely new attraction was built – 500 feet below Snowdonia's surface.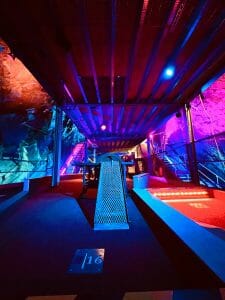 YSA Design
YSA Design is one of the world's leading architects and design studios for the cruise ship industry. It leads in example with decades of experience that extends from the concept stage to project management in the shipyard. Their latest project was Norwegian Prima.
The Fincantieri built Norwegian Prima was christened in Reykjavik, Iceland in preparation to set sail with itineraries to Bermuda, the Caribbean and Northern Europe. Norwegian Prima, the 294-metre passenger ship, is the first in Norwegian Cruise Lines' Prima class of vessels, and can accommodate up to 3,099 guests.
YSA Design developed various spaces aboard Prima, including two dining establishments, Hudson's and The Local, the forward and aft public stairs, the lift lobbies and public toilets!
They chose a new, fresher aesthetic for the Norwegian Prima, bringing the modern flair of luxury hotels to the cruise ship. YSA Design senior interior architect and project lead, Fabiana Vale Dornelas, says they work their magic through 'elegant and contemporary elements including clean lines, reflective surfaces, stone finishes and metal detailing.'
YSA Design's creative process rests on three pillars: close relationships with clients; our talented and innovative staff; and the skills and experience of our founding partners.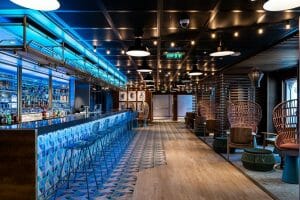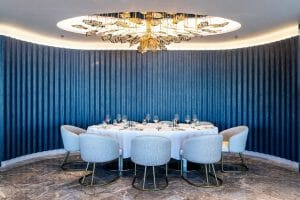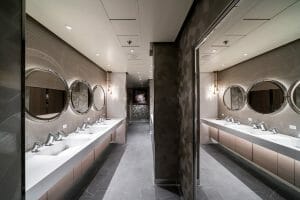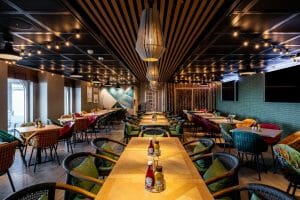 Trimline
Trimline has outdone themselves again by modernising 56 suites on Hapag-Lloyd Cruises' MS EUROPA 24 hours earlier than the expected 2 week transformation. The team of 60 installed new flooring, fixed furniture, soft furnishings and light fittings, to give the high-end suites a new bright and airy feeling. The early completion meant Hapag-Lloyd Cruises had the opportunity to handover to housekeeping a day earlier than planned, giving them more time to prepare the suites for guests.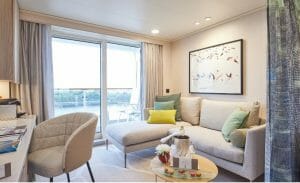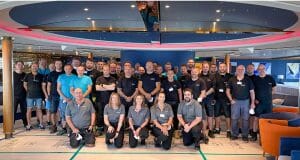 Ege Carpets
Ege Carpets incorporates timeless Danish design, long-lasting quality, natural comfort and progressive sustainable thinking into every project, for a wide range of sectors. Since its beginning in 1938, one of the company's core values has been sustainability, and fair environmental practices. Today, Ege Carpets continue to show dedication to the environment, and unveil their new sustainable collection, called The Eco Concept.
Ege Carpets are rewriting industry standards and rethinking how quality and sustainability – from material to end product – can be combined. In total, Ege Carpets have used an incredible 93 million plastic bottles in their carpets, 965 tonnes of recycled water bottles to make carpet backings, and more than 80% of the colour dye is reused again and again during the production process. The new sustainable collection is a continuation of the company's long-standing values, but is also an exciting new path for environmental business practices.
The Eco Concept represents Ege Carpets' most ambitious and sustainable collection to date and shows that textile flooring can easily be green – no matter what colour, shape and construction you choose.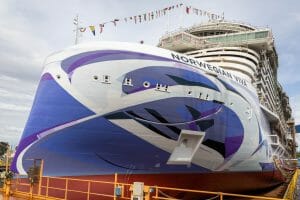 Cristallux | Molteni | TDoS
In a triple CSI+ collaboration, Cristallux has revealed one of the many ways to use their zero waste material Alamar! With the creative vision spear-headed by Tillberg Design of Sweden, Molteni was able to create the lighting concept by using Cristallux's Alamar material. Molteni curated this piece by hand-moulding elements in various arctic blue colours. These illuminated elements create a different stunning visual effect from every angle. Triple threat or what?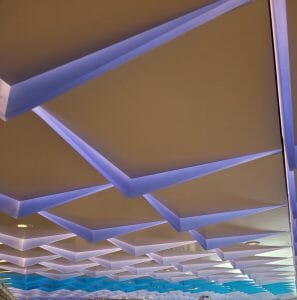 Thanks for reading this month's CSI+ Members News!
As always, we love to hear from the Community, so feel free to comment on this post (or any of the posts!).
Don't forget you can submit your company's latest product announcements or news to be included in the Community Bulletin.
Check out our other CSI+ Blogs here.
Save the date! IMO Webinar | 26th October
Join us in our online lounge, where we'll be joined by Graeme Hyde from Lloyd's Register to learn all about IMO certifications within the cruise ship interiors industry and answer your burning questions, including:
> What is IMO and why is it required?
> What materials and items need to be tested?
> What type of testing is there?
> What is the average cost?
> How long does the process take?
> How often does it need to be repeated?
> How can Lloyd's Register help?
> Open Forum Q&A