Since 1983, MJM has strived to be a global leader for the Vessel Industry. And since then, they have successfully become one of the world's most sustainable and profitable outfitting companies! They provide a comprehensive repertoire of turnkey solutions for the outfitting of all spaces on board cruise ships, ferries, yachts and vessels of any type.
This week we're meeting Bridget Brown, Procurement Manager, to tell us more about their world!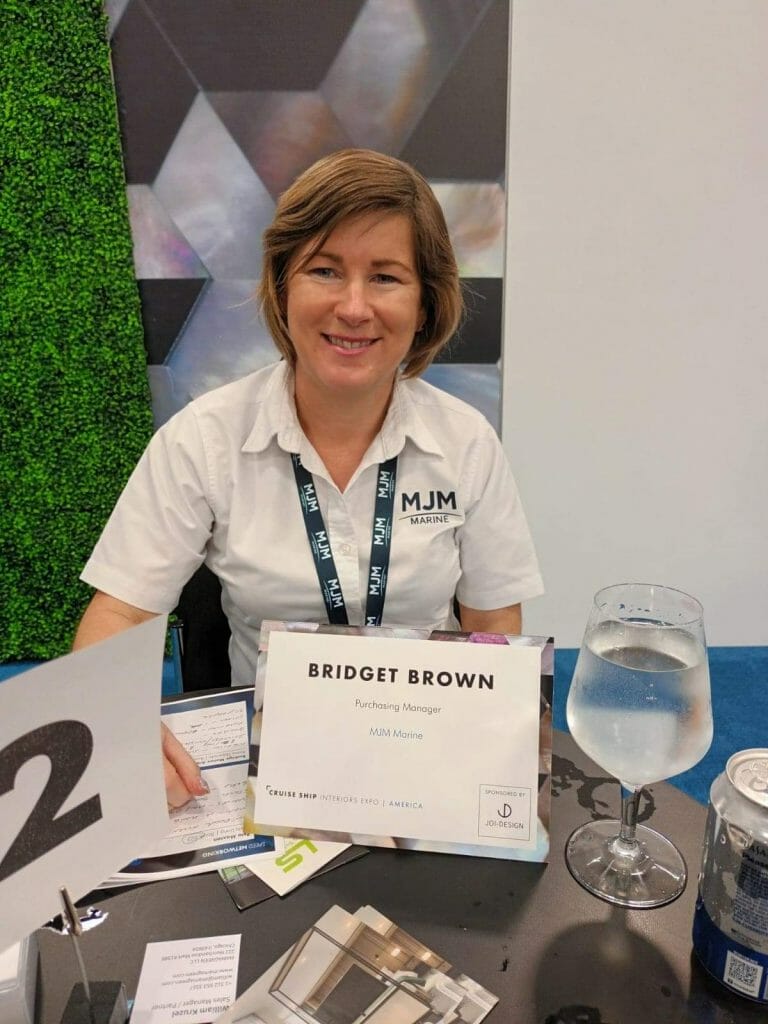 Tell me about your role with the company?
I've been with MJM for almost 18 years now. I started as a Buyer, then progressed to Senior Buyer and recently I have been promoted to procurement manager! I manage the procurement department which consists of four buyers. It is our responsibility to ensure that all materials required for projects are ordered on time, at a competitive price, good quality and will be delivered on time to meet our deadlines.
What has been your favourite project to work on?
My favourite project to work on was the Azamara Pursuit because it was the first cruise ship that we worked on in Belfast. We had an opportunity to see it before the work started, during the refurbishment and then when it was completed. Afterwards we were all invited to attend dinner on it which was fantastic.
What's your favourite ship and why?
My favourite ship has to be Wonder of the Seas owned by RCCL because it is the largest ship in the world, and I had a family holiday on it this summer!
What's the biggest obstacle you've faced in your career so far?
The biggest obstacle that I have faced in my career so far was the pandemic. We had about five large jobs about to start, and some already started that year, so all materials were already bought and either at various dry dock locations all over the world or were on route. These projects were either put on hold or cancelled. We had approx. 300 containers full of materials which had to be tracked and brought back to N. Ireland until jobs could resume again.
Do you have an industry insight you can share or a fun fact about the sector you work in?
Did you know that the Wonder of the Seas is five times the size of Titanic – 1188 sq ft (362mts) in length and 210 feet (64mt) wide which is roughly the length of 3.3 football fields, as wide as 4 tractor trailers and the same height as a 16-story building.
What's one piece of advice you would offer someone new to the industry?
The marine industry changes quite frequently so you need to be flexible and able to adapt to changes quickly. Cruise Ship Interiors Expo is a great way to meet people in the industry and I would highly recommend getting to as many of these events as possible both on and offline to meet like minded people in the industry.
What's the career highlight you're most proud of?
I am a mum of three teenagers and work full time, so I am very proud to be able to balance my life between work and home!
What do you like about CSI+ or What are you looking to get out of your membership?
The opportunity to expand our supply chain for me is one of the greatest benefits of CSI+. Earlier this year I went to the show in Miami and met lots of industry suppliers there. The networking opportunities were excellent.
What do you love about the Cruise Interiors industry?
I really enjoy the Cruise Interiors Industry as it is a very challenging job for us buyers. Designers want new and exciting materials all the time so it's our job to find them at a competitive price but that they also meet the requirements of the cruise industry.
What are your top resources for this industry?
Our top resources for this industry would be bespoke joinery items manufactured in our own 100,000 sq ft factory, ceilings, wall, floors, bespoke light fittings, tiles, and upholstery items.
Who or what inspires you in your career?
I would have to say the owner of MJM inspires me. He started this business almost 40 years ago. Being a joiner himself and with only a few employees has grown the company to be a very successful and profitable outfitting company and is now a world leader in the marine industry.
What has changed the most about the cruise interiors sector since you started?
Obviously over the last year or so the supply of materials is getting very difficult. Lead times are being pushed out all the time but unfortunately with the cruise industry we don't have long lead times. Drydocks are booked well in advance but usually the finish schedules are the last things to be confirmed. Designers normally want bespoke items to keep the ships different and interesting for clients, but bespoke items usually take a lot longer than standard items. However, we still have to get materials there by the deadline – there is no movement on these dates, so we normally have to source alternatives and get them approved which all takes time.
What are you looking forward to in the next year or what are you hoping to achieve?
Obviously, the cruise industry was greatly affected by the pandemic but thankfully things are recovering really well. I am looking forward to the future growth of the industry and seeing what that brings next, from new ships to new onboard experiences.
Now, a bit about you…Quick facts!
Where do you live?
Banbridge.
How did you get into this industry?
I covered for someone for a while in the buying dept and enjoyed it a lot more than sales as you have more control.
What have you learnt?
One of the key skills I have learned and developed is negotiation!
What did you want to be when growing up?
I always wanted to work for a large company in an office environment.
What was your dream job as a child?
To have my own business. But then I saw how much hard work it was and decided it was better working for someone else so you can switch off when you get home.
What's the scariest thing you've ever done, and why did you do it?
Scuba diving, my friends were doing it.
If you could relive one moment in your life, which would it be?
My wedding day.
Is there a product/item that you couldn't live without?
Smirnoff Ice.
Can you tell us a fun fact about yourself or something we don't know? Any hidden talents?
I am known to my friends as the 10% girl which basically means I will always be the one to do something different – not follow the 90% doing the same thing all the time. Keeps life interesting.
Best film you've seen or best concert you've ever been to?
Tina Turner concert!
3 course meal! What are you having for starters, main and dessert? – and a drink!
I'm a very plain eater and would normally only take a main course of either chicken or steak & chips with peppered sauce. I do always want to share a dessert with someone though! I like a glass of Rosé wine with my dinner.
Favourite film / book and why?
PS I love you – I love romantic films and books!
Thank you Bridget!
Don't forget to follow MJM Marine for the latest updates here!