As technology becomes more deeply integrated with many aspects of our day-to-day lives, it is no surprise that it is beginning to emerge in cruise ship interior design. Increasingly, designers are using different technologies to aid in the design process. These range from creating concept art and visuals, to smart space planning, and personalised design solutions. For example, CSI+ member Madden Marine recently collaborated with Figura Design to create a 3D design proposal with a 360 degree virtual tour for a client's imagined cruise interior.
However, it's not just about the design process; these technologies are taking cruise interior spaces into the future. Delve into the most innovative cruise designs of today and see how new technologies, including Artificial Intelligence, are revolutionizing cruise ship interiors.
On board navigation
There have been many developments in digital signage for improved navigation over the past few years. Earlier this year, LG launched the GNEB product family, a line of direct-view LED (DVLED) displays for outdoor cruise spaces. These DVLED displays will enhance exteriors with enormous digital screens capable of providing optimal performance in all weather conditions. To aid this, the screens are equipped with an optional light sensor that automatically dims depending on the lighting. Cutting-edge OLED signage technology can also digitize cruise interior designs while enhancing guest experience. These OLED displays have been designed to beautifully blend in with their environment, acting almost like a window that can show content or enable touchscreen capabilities whilst having minimal impact on the overall interior design.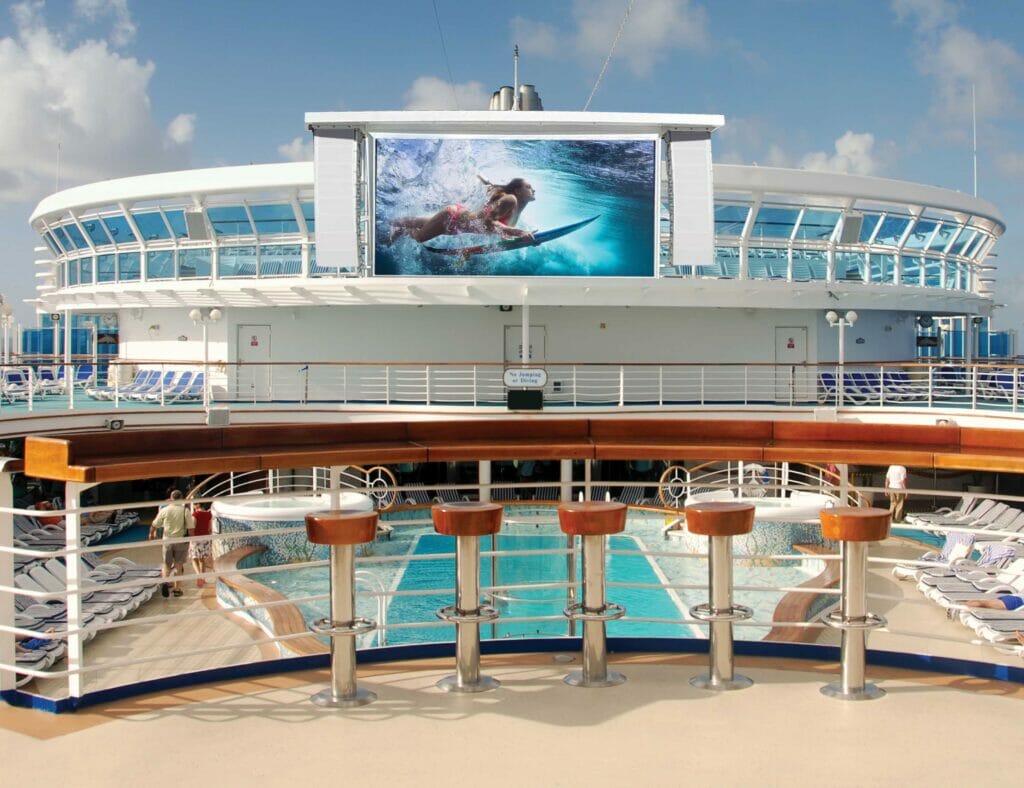 Norwegian Cruise Line (NCL) has utilised digital signage across its cruise ships since the launch of Norwegian Breakaway in 2013. Located throughout NCL vessels, 30 to 50 interactive touchscreen signs allow guests to order specialty items, get directions and reserve dining, shore excursions and entertainment simply with a scan of their stateroom key.
AI-assisted wayfinding
Britannica defines Artificial Intelligence (AI) as a digital computer or computer-controlled robot's ability to perform tasks commonly associated with intelligent beings. The term is frequently applied to developing systems endowed with the intellectual processes characteristic of humans, such as the ability to reason, discover meaning, generalize, or learn from experience.
First launched on AIDAPrima in 2016, Pepper was the world's first emotional robot on board a cruise ship. Using AI technology, Pepper helps guests with navigation and information across various Costa Cruises and AIDA Cruises vessels. Pepper can speak three languages and even interpret human emotions by analysing voice tones and facial expressions. Pepper assists with embarking and is then available on board to provide recommendations and tips on restaurants, events, and excursions. To assist with Pepper's tasks, the four-foot robot is equipped with 17 joints for graceful movements, three omnidirectional wheels, a 3D camera for detecting and interacting with guests, and a 10-inch interactive touch screen.
Improved sustainability
Technological advancements can also reduce the environmental impact of a cruise ship design. On board Quantum of the Seas, Royal Caribbean opted for LED lighting instead of conventional incandescent bulbs throughout its hallways. These are activated by motion sensors reacting to the presence of people. They reduce the intensity of lighting when no one is around. This has lowered power consumption on board. Virgin Voyages has also implemented similar technology in its cabins, where presence sensors automatically detect when someone has left the cabin. Here, they go into energy saver mode, where blinds close and air conditioning adjusts to an eco-saver temperature.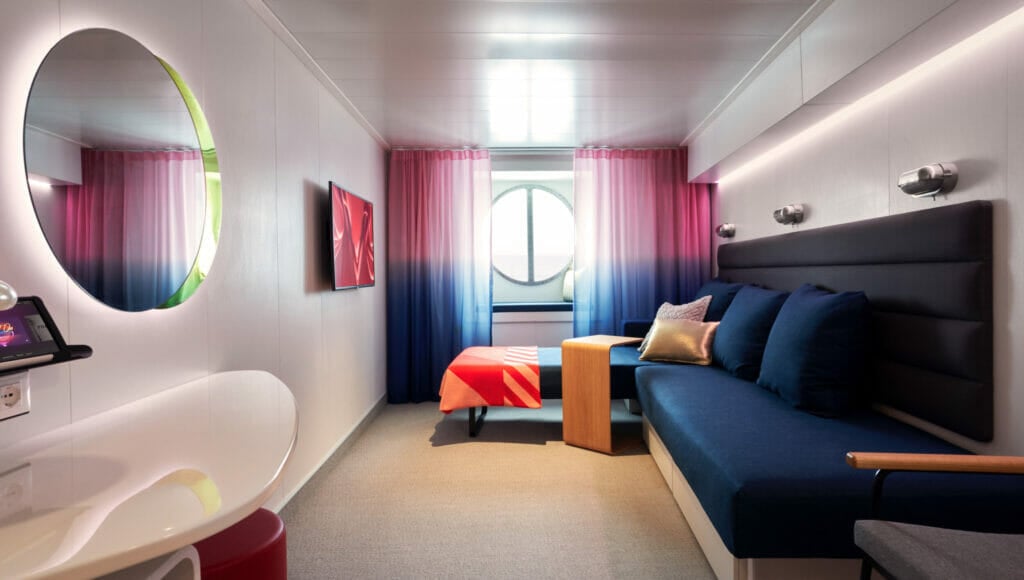 SageGlass has also recently developed a technology that will conserve energy with their automatic tinted glass for cruise vessels. Operated with a touch of a button, this innovative glass blocks up to 91% of solar heat and reduces glare, while lowering energy demand and HVAC needs on board.
Staterooms and suites
Technology and AI can be used to enhance the designs of cruise cabins and the guest experience. On board Quantum of the Seas, Royal Caribbean upgraded their interior cabins with virtual balconies. These 80-inch screens broadcast a real-time panorama from a high-quality digital camera mounted on the ship's exterior. This reduces the claustrophobic feelings passengers may associate with interior cabins. The "balcony" includes a virtual railing and natural sounds associated with the views. Passengers can control the volume, with the option to turn the sound off completely and draw the curtains when sleeping.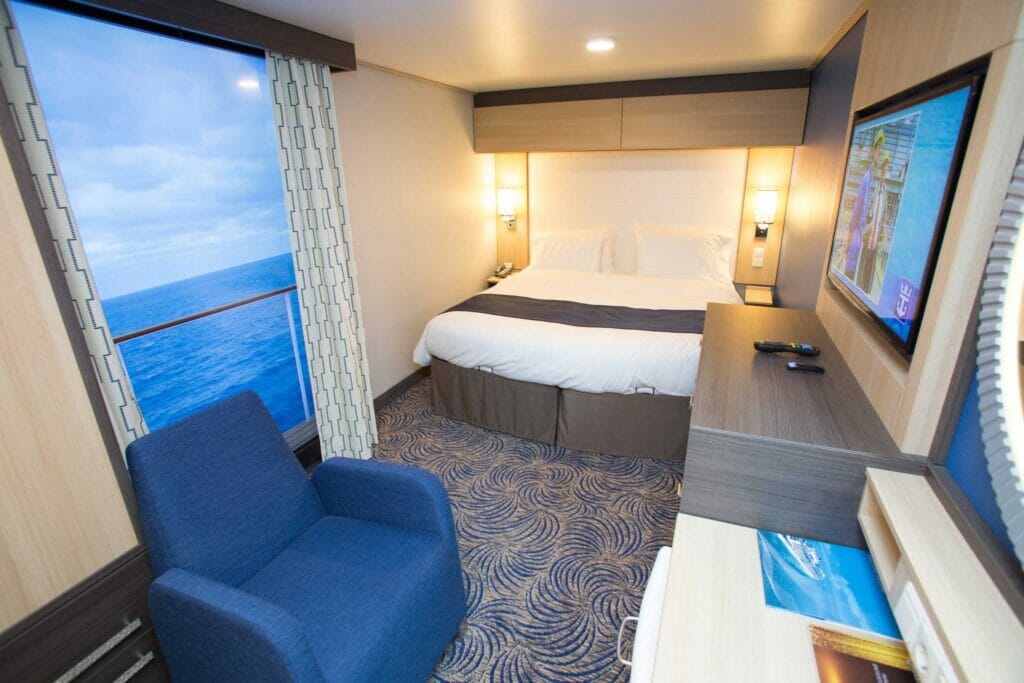 AI-powered room controls
MSC Cruises, in collaboration with Samsung-owned HARMAN Connected Services, launched the first AI-powered virtual personal cruise assistant at sea, ZOE, on MSC Bellissima in 2019. Using ZOE, guests can control the lighting and temperature within their cabin, allowing them to personalise their cabin experience.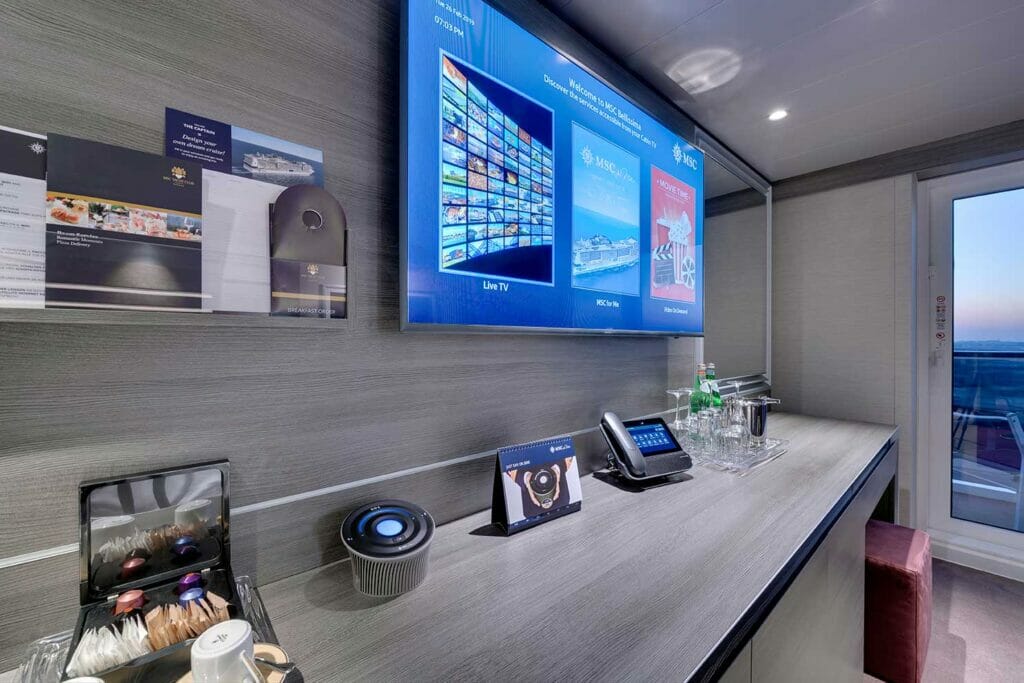 Immersive entertainment spaces
Augmented Reality (AR) and Virtual Reality (VR) are more prominently featuring in entertainment spaces on board cruise ships. Revfine defines Augmented Reality as serving to alter a person's perception of their physical surroundings using computer technology. Augmented reality is often compared to virtual reality, but while VR replaces the real-world environment with a completely virtual one, augmented reality enhances the real-world environment in real-time.
Norwegian Cruise Lines implemented AR games on board Norwegian Encore within a 10,000-square foot gaming and virtual reality complex. The game center includes a VR racing experience in a retrofitted GT car, and an escape room challenge where guests participate in a series of interactive and AR activities.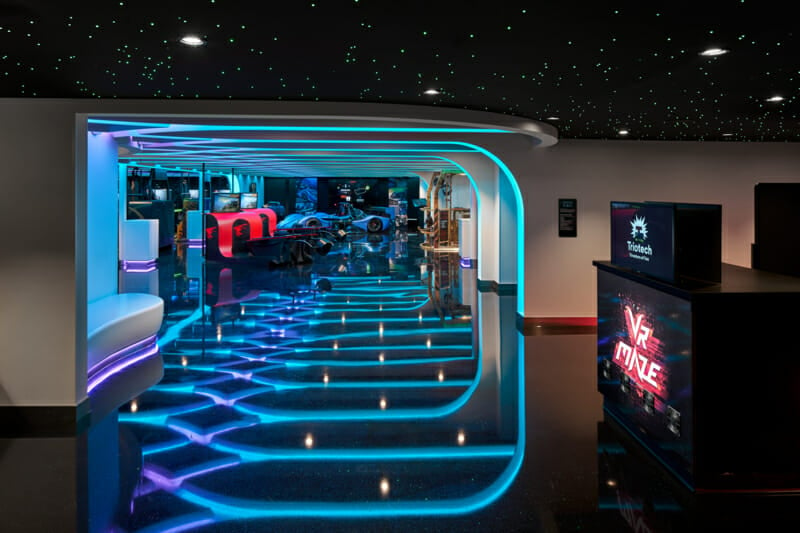 AR is also making waves on board Anthem of the Seas. Here, passengers can take part in an augmented reality adventure experience called Expedition Two70. This was implemented in a recent refurbishment and boasts four immersive augmented reality games.
Interactive venues
Not only can technology be used to enhance on board entertainment, but it can also be implemented within designs to create innovative, one-of-a-kind dining venues that leave a lasting impression on guests. It can also create a multisensory experience, such as the world's first underwater lounge, Blue Eye on Ponant's Le Laperouse. Here, passengers can delve deep into the ocean's depths.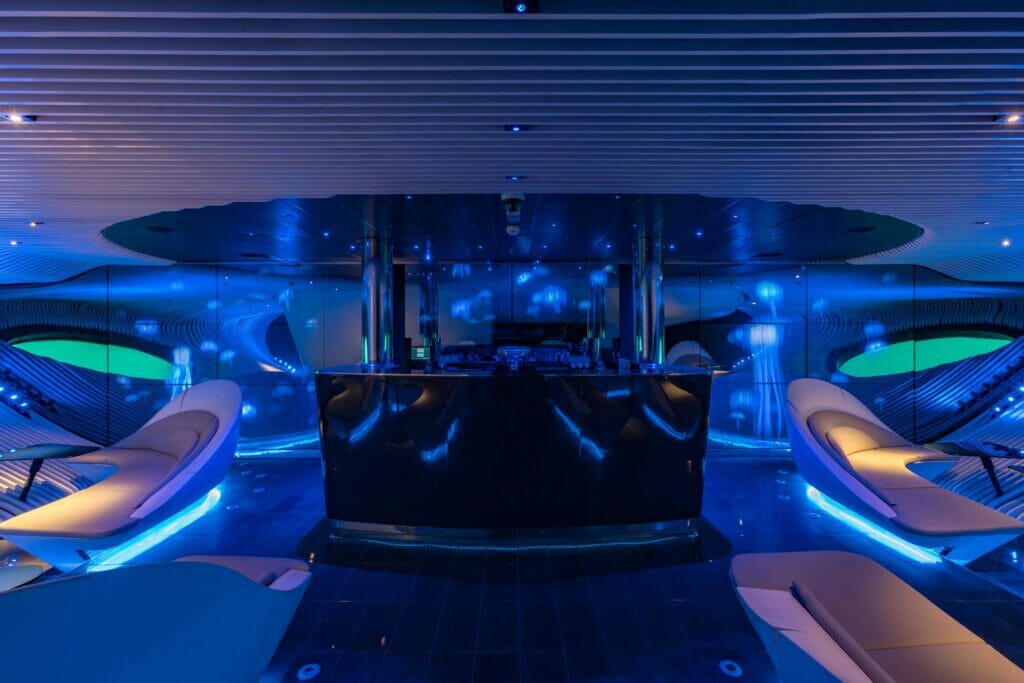 Designed by Jacques Rougerie, a world-famous French architect who specializes in underwater habitats, this innovative space features two glass portholes shaped like the eye of a whale looking out to the marine world. Digital screen's adorning the walls project images filmed live by three strategically placed underwater cameras. To further the immersion, Ponant enlisted the expertise of contemporary composer and sound designer Michel Redolfi to develop hydrophones that transmit the natural symphony of the sea into the lounge. These relaxing sights and sounds can be enjoyed from the comfort of body-listening sofas which discreetly vibrate in unison with the streaming aquatic acoustics.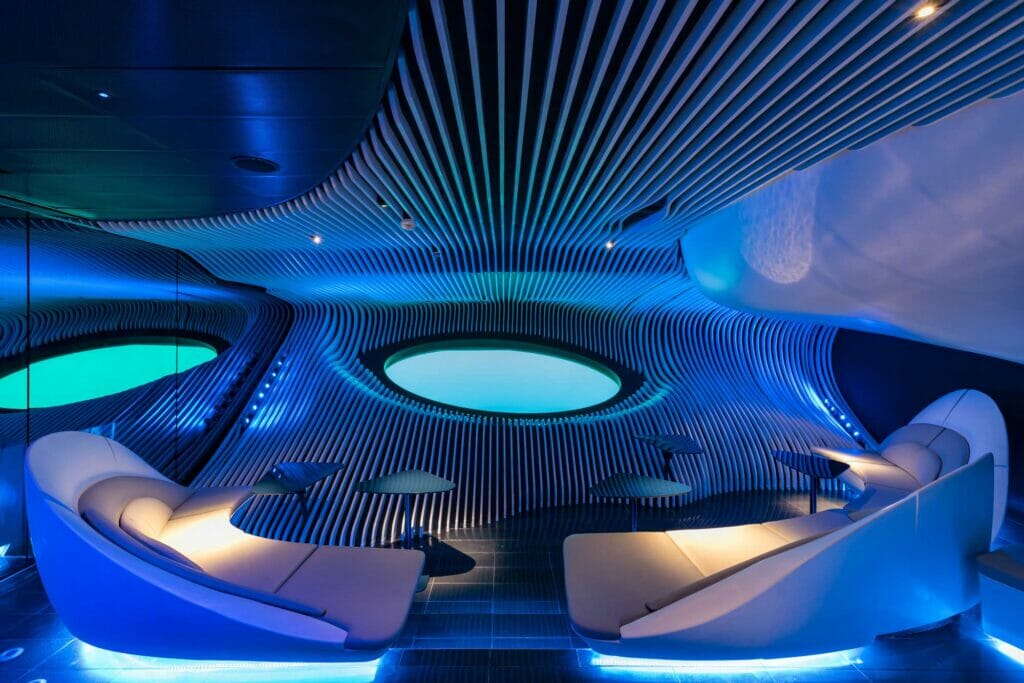 Augmented reality enhanced dining
Originally a land-based innovation, Le Petit Chef made its cruise debut on Celebrity Edge in 2018. This fun dining experience was brought to Celebrity Cruises passengers following a partnership with Tablemation and Skullmapping. Through the magic of augmented reality, guests watch as a 3D-projected tiny chef on their table crafts courses from the set menu. Once the animation has finished, the real dishes are served.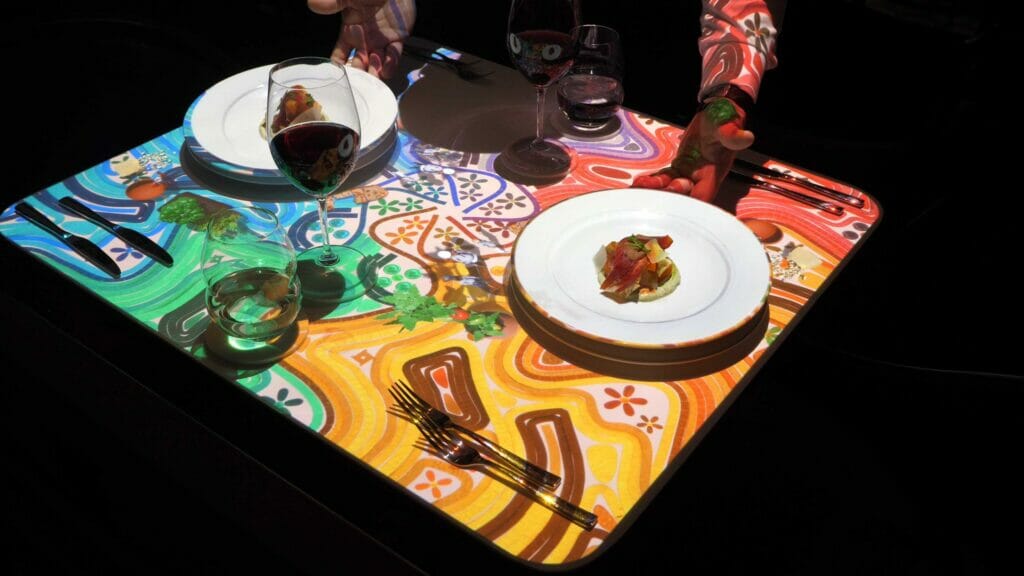 Travel through time and space with MSC Cruises
In 2021, MSC Virtuosa sailed passengers into the future with the MSC Starship Club. Its sci-fi design was inspired by MSC Cruises' vision of the spaceship of the future – MSC Starliner One. The MSC Starship Club boasts an interactive and technologically advanced design featuring 3D holograms, an immersive digital art wall, a 12-seater infinity digital interactive table, and Rob, the first-ever humanoid bartender at sea! Rob mixes and serves his signature cocktails and countless personalised drinks whilst engaging the guests with a voice speaking multiple languages and human-like expressions on his LED face for a fully immersive bar experience.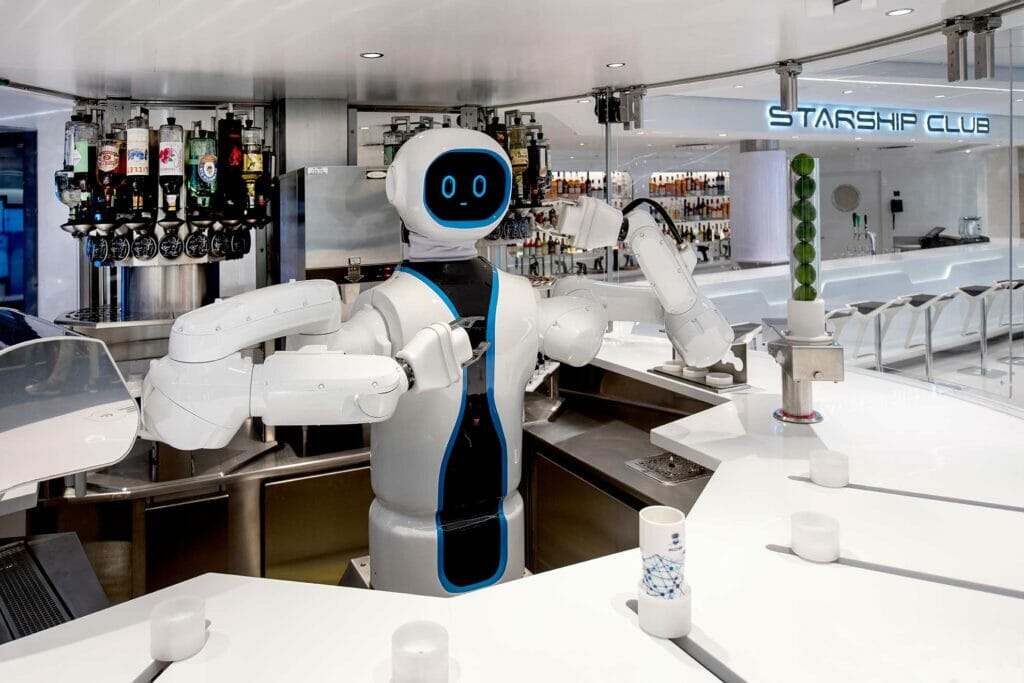 Transformative multipurpose dining spaces
Imagined by award-winning designer Kelly Hoppen CBE, Celebrity Edge's innovative Magic Carpet cantilevered moving platform wowed the industry when it debuted in 2018. Not only is this platform able to move from deck to deck, but it also transforms into different venues depending on the deck it's stationed at. This multipurpose space can become a water-level throughway when at port and an al-fresco extension on one of three decks while sailing. This means passengers can now enjoy al-fresco dining at restaurant Raw on Deck 5, happy hours and late-night parties on Deck 14 and a magical location for exclusive dinners and high teas at its highest location on Deck 16. This is a creative solution to optimising the limited spaces found on board cruise ships.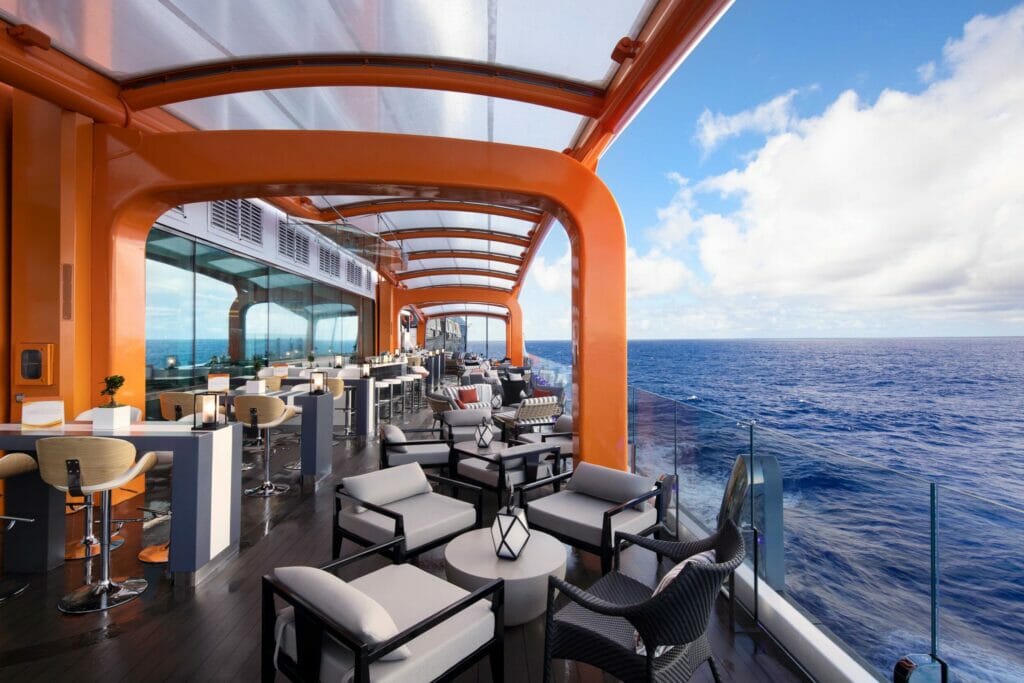 Future developments
Earlier this year, Royal Caribbean's Senior Vice President and Chief Product Innovation Officer Jay Schneider spoke on intelligent automation and provided insight into how Royal Caribbean is using AI. He shared that when Icon of the Seas sets sail in 2024, it will feature AI that allows guests to control their stateroom temperature and lighting. Royal Caribbean is also looking to allow guests to customise their staterooms by digitally changing the colours and designs of the floors, ceilings, and walls using AI programmes. With many dynamic innovations already on the seas and in development, cruise design technology is a fast-growing area for the cruise interiors community to keep a close eye on.
Want to stay up to date on the latest cruise interior industry developments and trends? CSI+ is the exclusive platform for Members-only networking and product sourcing for the global cruise interiors community. Not a Member yet? Get in touch with the team to learn more.