Greenspan, one of CSI+'s own, collaborated with Zip World to create a subterranean, mining-themed golf park in Llechwedd Slate Caverns. The iconic Welsh caverns were inaccessible for 200 years, but with the pair's vision, an entirely new attraction was built – 500 feet below Snowdonia's surface.
Designed with Welsh culture in mind
The Golf Adventure World collaboration between Greenspan and Zip World is enriched with Welsh heritage. Sean Taylor, Co-founder and CEO of Zip World highlighted the project's culture and explained its unique story of 'the town that roofed the world', through golf! With 18 story-telling holes, over four mesh-floor levels, and one huge exit slide, the two companies thoroughly outlined the Welsh mining narrative. Sean Taylor explained that, 'Generations of people from this area have worked underground, and people have lost their lives here too. It's also important for me as a local lad; I was born and bred seven miles away from Blaenau Ffestiniog. There's a huge community buy-in for it.'. Zip World also has an existing Deep Mine tour, which delves into the history of the quarry. And, on the same cultural token, the park can only be reached by cable tram, more specifically, Europe's steepest cable railway – talk about a unique experience!
Greenspan's Managing Director, Rod Morten, explained the company's excitement for the project, "From the outset, we knew that Zip World were market leaders globally for innovative and one-of-a-kind projects. So, the bar was set high." He explained the rigorous procedure that led to the creative concept, and how the key task was "creating a fully detailed 3D model of the project. We had the cavern surveyed and from this, we could create our 3D model that showed exactly how the attraction would look. This allowed the Zip World team to fully immerse themselves in the design and make any changes required before construction began."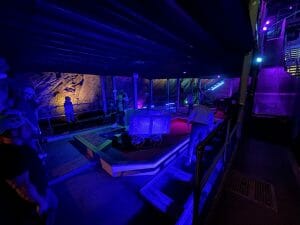 Zip World's new golf attraction is a different direction for the immersive-experience experts, where their regular duties lie in combining swings and parachute simulators! With their trust invested in Greenspan, Zip World's vision of another world-class, wow-factor attraction was in the making. The caverns are located in one of the wettest places in the UK, so the golf park's underground installation means it can be open no matter the weather. Interestingly, it's always 8 degrees Celsius and always dry in this unequalled adventure golf park.
Creating one-of-a-kind immersive spaces
Zip World and Greenspan were able to create immersive special FX, bright atmospheric lighting displays, and sound shows that can change based on event: Taylor says that this one-of-a-kind space can be themed, "for Christmas, for Halloween, we can theme it for birthday parties and special events. We can even do evening entertainment – we're looking at doing events in September where people can come down and have a beer. I can see us having weddings down there, you name it."
Zip World and Greenspan's project sets forward thinking design in a historic location. Greenspan's approach to managing the unusual space showcases their ability to bring maximum impact in stringing space limitations.